Ten projects for locking-in on fossil fuels
5 regasification plants and 5 gas pipelines between the Iberian Peninsula and Italy are among the plans to transport fossil gas to the European Union. At a crucial time to address the climate emergency, institutions continue to rely on fossil fuels. 
The Livorno-Barcelona pipeline consists of a connection between the port of Livorno and a Liquefied Natural Gas (LNG) terminal in Barcelona. It is announced as a possible route for LNG  initially imported by the Spanish State to reach the European market. The Barcelona terminal has the largest import capacity in Europe, with more than 17 billion cubic meters of fossil gas (17 bcm).
A 'virtual' gas pipeline is also being proposed, making use of a Floating Storage Regasification Unit (FSRU) – a large boat which stores LNG before it is transferred to the mainland – already anchored outside Livorno. Both the Spanish and Italian companies responsible for gas infrastructure (Enagas in Spain and Snam in Italy) have signed a Memorandum of Understanding on the pipeline, with feasibility studies being carried out.
This is far from the only fossil gas project proposed in response to Europe's energy crisis. Similar FSRUs are also planned in Italy. Snam have purchased an FSRU anchored in Piombino capable of storing 5 billion cubic metres of LNG and a similar boat is being acquired for Ravenna on the Adriatic coast.
The proposal to route a gas pipeline from Spain to Italy is also in part an attempt to pressure France into backing the MidCat gas pipeline – a previously mothballed third connection between France and Spain's gas networks. The pipeline was first proposed over a decade ago, and a 90km section has already been built in Catalonia.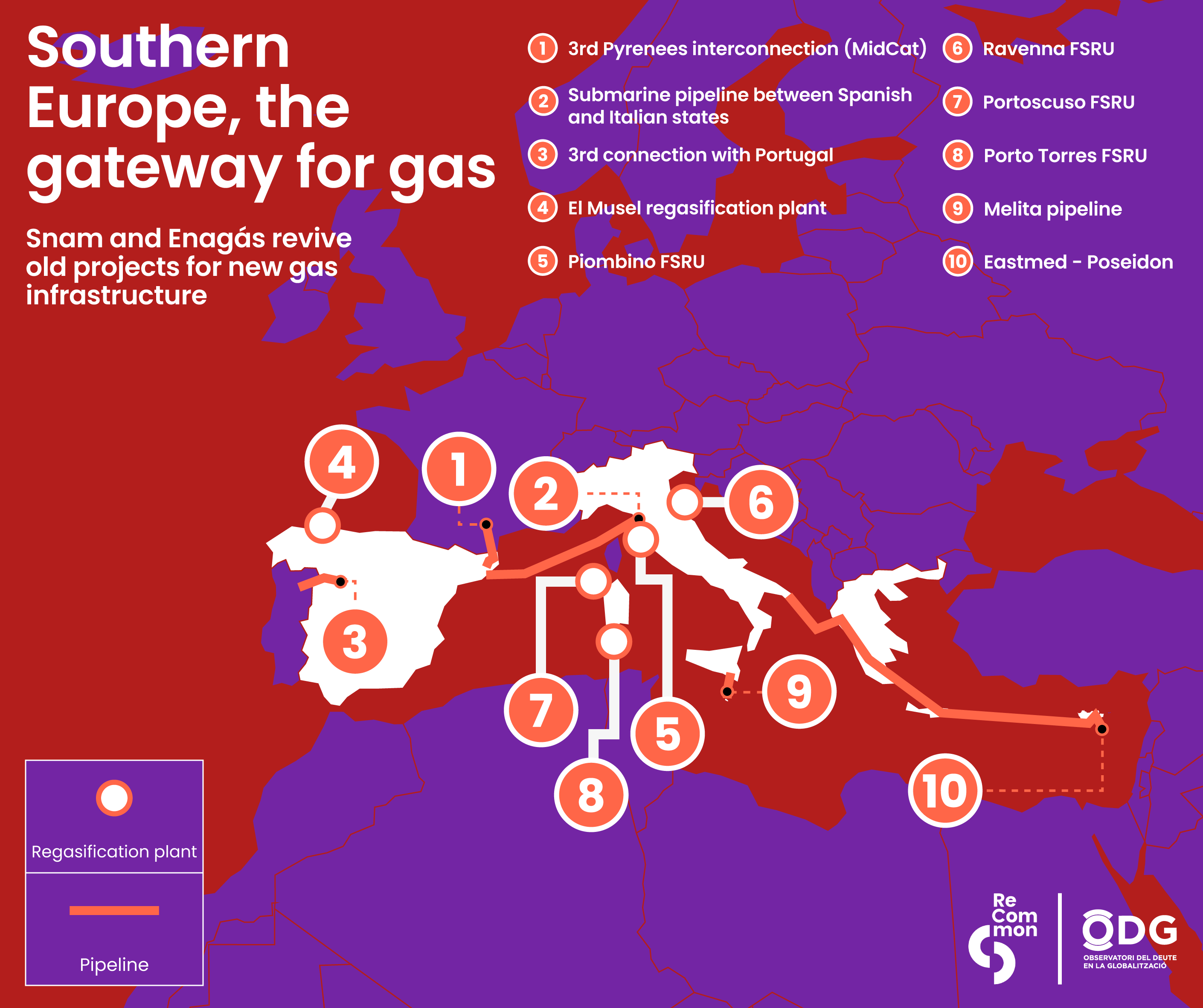 This new commitment is intended to be supported through the European Commission's REPowerEU plan. 
In theory, the plan aims to switch Europe to more reliable energy sources and to eventually end its dependence on Russian fossil fuel imports after its hostile invasion of Ukraine.
REPowerEU does this by sidelining other EU policies such as the European Green Deal or the 'Fit for 55' plan to transition to a greener economy. It diverts funding from the NextGenerationEU pandemic recovery fund to support a total rush for gas projects like the pipeline connecting Livorno and Barcelona. The goalposts have moved – what were once plans to green Europe's energy system have switched primarily to securing it at increasing cost to the environment.
On top of the promised €245 billion made available from the European Green Deal, Fit for 55 package and NextGenerationEU, REPowerEU dangerously proposes to use almost €40 billion from other existing public funding streams and measures at EU level. All of these instruments could be mobilised to finance new renewable energy to reduce dependence on Russia – or damaging fossil fuel infrastructure accelerating the climate crisis.