New report of the Debt Observatory on Globalisation (ODG) describes how Renace was implemented and what risks this PPP project implies in Guatemala.
The construction of the Renace hydroelectric complex (in Alta Verapaz, Guatemala), responds to a complex network of relationships between the Guatemalan State and families of its oligarchy. Through a series of legislative changes, Guatemala has generated a structure that allows the concentration of capital and the enrichment of the economic elite, with a large share of power, alien to the mechanisms of democracy. National companies such as Corporación Multi-Inversiones (CMI), and Spanish companies, such as Actividades de Construcción y Servicios (ACS), with strong ties of friendship, benefit to the detriment of the general interest.
In the case of Renace, CMI subcontracted ACS, through its subsidiary COBRA, for the construction of the Renace II hydroelectric plant in 2007 (and its subsequent phases) and has been linked to the project since then as the main shareholder and executor of the project under a contractual and financial mechanism known as Public-Private Partnership (PPP).
The report (*available in Spanish and Catalan) also reveals the risks of the Renace PPP project for Guatemala:
Risks to public finances and generation of illegitimate debt since the State is not co-owner of the project and does not receive income from it.
Risks to democracy given the lack of transparency in Renace contracts and the deep corruption network generated between the State and families of the Guatemalan oligarchy for the enrichment of an economic elite.
Risks for Economic, Social, Cultural and Environmental Rights and equity, which respond to the impacts on approximately 29,000 inhabitants of the Q'eqchi Maya people of the communities near the Cahabón River, dependent on it as a means of livelihood and subsistence. The complaints, both national and international, are related to areas such as health, nutrition, consultation, participation, information, water, self-determination and food security.
Renace is another case of PPP that encourages bad practices on the part of investors, policy makers and administrations. The PPP model is far from being the effective solution sold by its promoters, lead by the World Bank and different governments around the world. It is a formula strongly criticised by civil society organisations around the world, and even by the Council of Europe in its report Public-Private Partnerships in the EU: Generalized shortcomings and limited benefits.
Authors: Blanca Bayas y Andrea Paola Galindo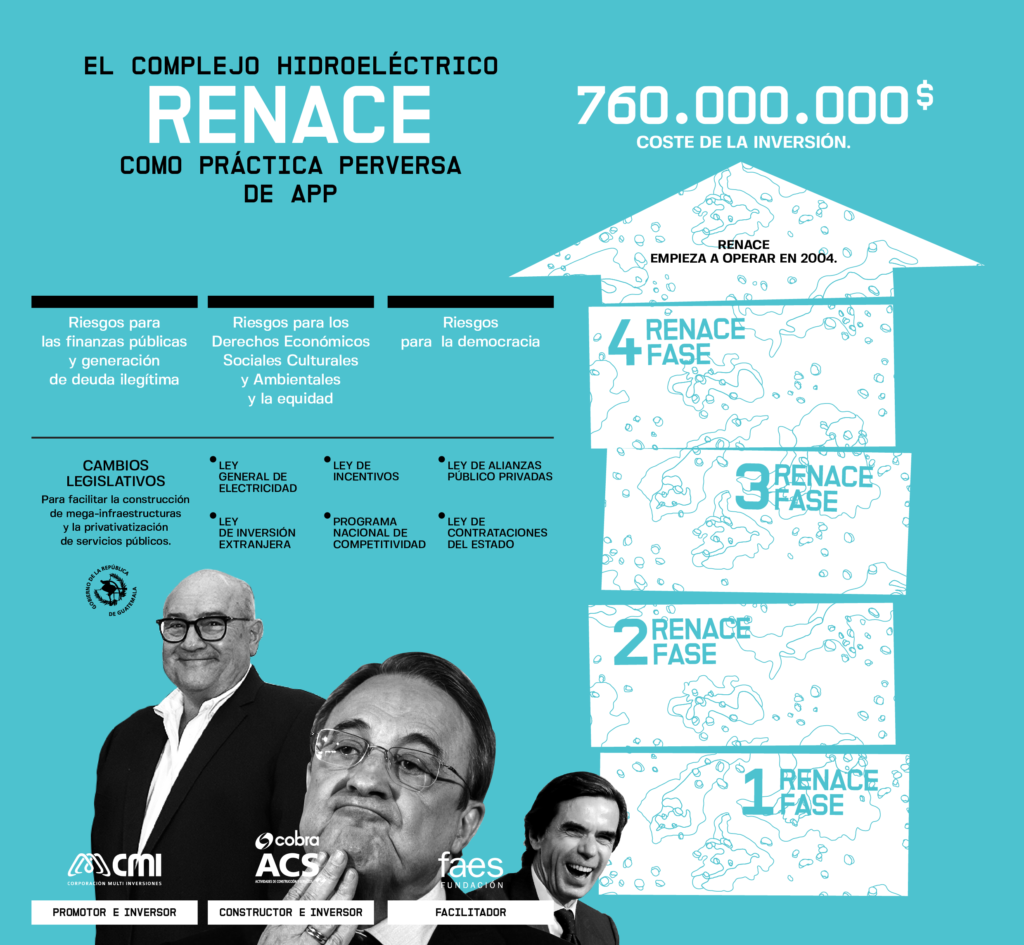 With the support of: